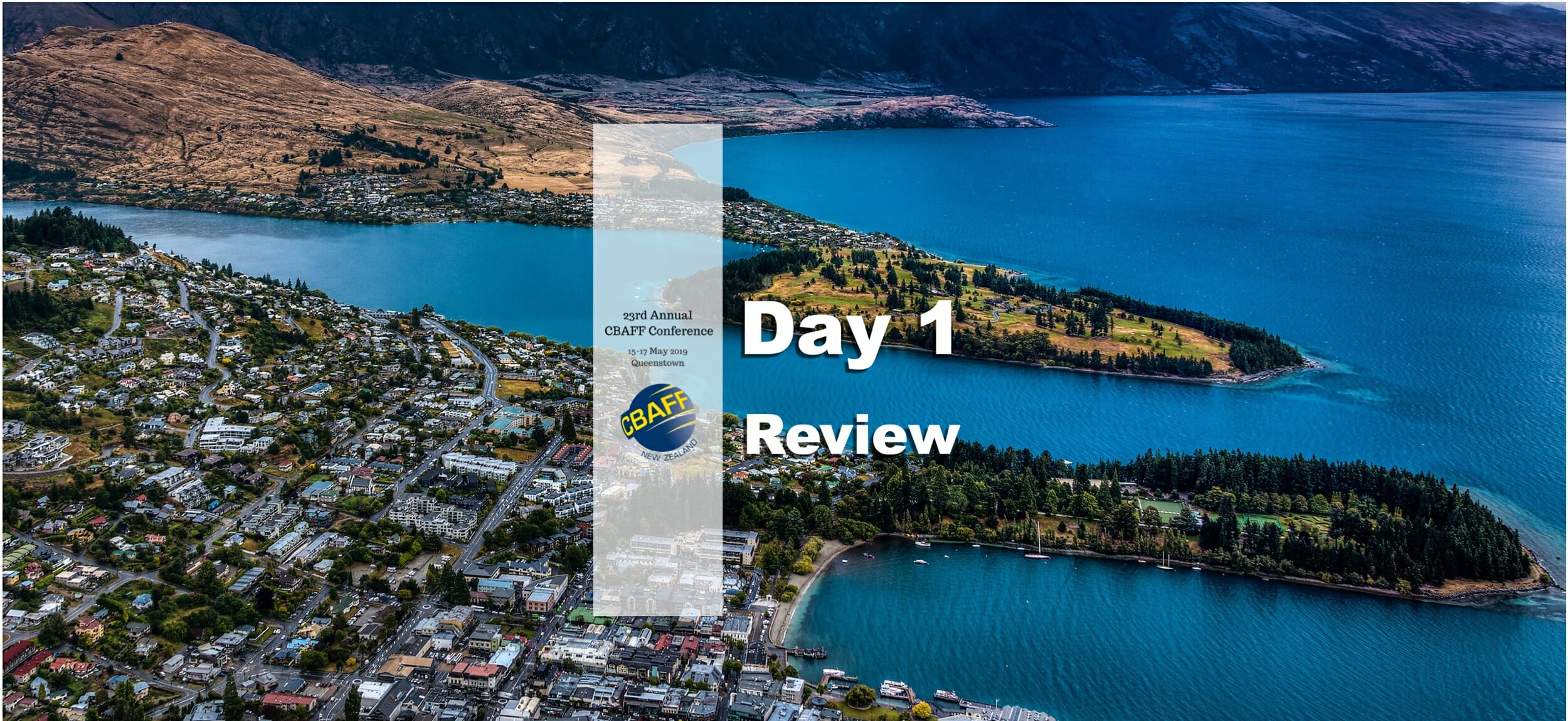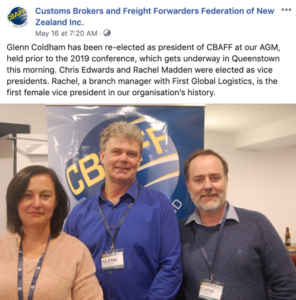 Everyone gathered in the Coronet/Remarkables Room, Ridges Hotel in Queenstown, New Zealand, for an 8.30am official start to the 23rd annual CBAFF Conference. Geoff Dolan MC'd the entire conference which had the theme of 'Disruption'. He introduced all the speakers, including Rosemary Dawson and Glenn Coldham (CBAFF President), who together welcomed everyone and were pleased to give an update from the AGM the prior day.  Ten council members were elected (from the 11 choices), and Glen was re-elected (for second year running) and two vice presidents, Rachel Madden and Chris Edwards.
CBAFF (Customs Brokers and Freight Forwarder Federation of New Zealand) are a non-profit which was established in the 90's to develop key relationships within and outside the industry, as well as offering expert advice and courses.
Coldham talked about CBAFF's involvement with Government Act (even though it may appear like nothing has changed). He also talked about meetings and cited Auckland airport congestion and Ports of Auckland as some examples. He also stressed that he was aware that Tauranga and Lyttleton Ports had similar issues. The conference actually started the day prior with a WiseTech elective and the evening Welcome Function, which was well attended by delegates and nine trade displays. Glen thanked the sponsors and delegates for their support and attending the CBAFF 2019 conference.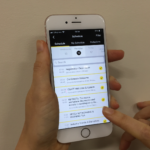 About 150 people attended the CBAFF Conference this year from New Zealand and Australia. Everyone found the event app very helpful. It made viewing the schedule (and session details), profiles on the sponsors (also called 'supporters' in the App), speakers or other delegates easy and even an in-built game to encourage engagement.
The keynote speaker, 'New Zealander of the Year 2019' Mike King, was first up and gave an inspiring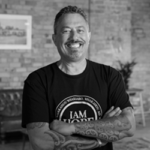 session encouraging all delegates to acknowledge the various forms mental health takes and challenged everyone to be available for others who might value a listening ear. Thinking is a conversation with ourselves but for some people at times the thoughts of critical or reason overcompensate. "Venerability is what future generations need to see". How parents speak to their children become the voices in their heads; their pattern for thinking. The same I think can be said for team leaders and employers. King suggested leaders start meeting and acknowledging their own vulnerabilities. Employees need to see their superiors acknowledging mistakes and making plans for change as this is the best opportunity for growth and success in the future.
For our first morning tea they facilitated a 'speed dating' style networking for 15 minutes before we actually started on the refreshments. It was our first time attending CBAFF so for us it was particularly beneficial. An opportunity to meet 5-6 people and talk for 2 minutes – hearing about each others organisations and their roles.
After morning tea Richard White, CEO and Founder of  WiseTech, took the 'Industry Trends and Disruptors' session. White founded WiseTech in 1994 and has successfully and impressively grown the business. The audience was challenged to reassign value to the term 'Amazon Effect' as simply being about logistics – something everyone in the room should be experts in. Maybe we need to think of eCommerce as simply an extension of the logistics we already handle? "Exceptional volumes … and increasing cross-boarder risk can only be solved with digital-straight-through processing. CBAFF members and others in the industry need to "create value, not compete on price" going forwards. He gave a verbal snapshot of CargoWise Nexus which although in development currently will be available soon "for the consumers of logistics services".
Spark, Head of Diversity and Inclusion, Rhonda Koroheke, spoke on Awakening Leadership, a heart-led approach in business. Organisations need to deal with changing workplace environments. Culture and diversity could be the biggest challenge we face. Thinking and planning around culture and diversity will impact us all. What opinions are you not currently hearing? Perhaps I can add, who are we unknowingly excluding? Or, are our workplaces as welcoming to others as we consider them ourselves? We all know the facts, a diverse group of people generally make better decisions.
The food-coma was combated after lunch by a panel talking on 'Disaster Recovery in the Digital Age'. Panelists were Derek Singline (Maersk Line), Tom Moore (Aura Information), and Christian Probst (Unitec). The discussion was a good reminder that doing backups alone isn't good enough. There is real value in checking that a full restore can be made if necessary from a backed up copy of the data. Protect, Prepare, Practice (the restart). Physical copies of manuals, PR planning and software segmentation of software and data are all suggestions of things that may be an appropriate additional measure to take to help slow the spread of a virus (should one penetrate).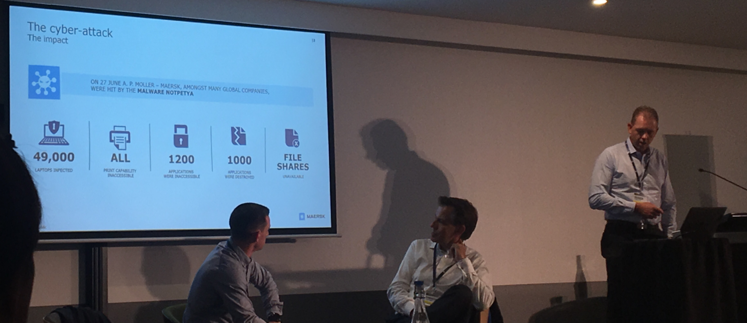 Maersk's brand had real-world proof of the impact it can have if a restore is needed because of an external malicious attack (300 million). The virus that impacted them was due to association with a required (off-shore) government/industry website (that had been the intended target). Considering the restore process and each employees potential risk was also an interesting and illustrated the need for a well managed restart, or it could reinfect!  It is tempting to think the issue is with the software. Security breaches could be created by hactivists, criminals or insiders [staff/consultants/customers], etc. Anyone who has access to the system could be a possible entry point.

Richard Bargh from NZ Customs gave a brief update. There was an acknowledgement that their interface could be improved (based on surveys they had taken). They have issued 92 infringement notices, but most (90) of those were passengers (not freight/logistics related). There was some discussion around 'Trade Single Window' (TSW) including a reminder the ICR mandatory date is just over a month away (30 June 2019). Brexit implications still are unknown but he explained they are doing their best to help, including some Brixit information being made available on their website (note, updated link since the conference). The number they shared for concerned New Zealand businesses was 0800 273 948. Having said that, he suggested having a backup plan just in case a 'no deal' scenario occurs. Bargh ended on a positive note, explaining that the Low Value Goods threshold has increased to $1000 NZ dollars. This means no tariff duty collected (except for tobacco or alcohol). In time they will issue guidance on write-off rules, ICR and entries.

Ministry of Primary Industries (MPI) followed with their update, presented by Roger Smith, Cheif operations Officer and Head of Biosecurity. Although clearances are at 34% currently, he has a target of 80% and is looking forward to being able to report of that achievement in the future. An audience member asked for comment of the slowness of resources. Smith seemed to take this on board and acknowledged it is a growing workload. In the last 10 years passenger arrivals are up 55% and cargo lines (of interest up) 79%, even cargo applications have increased 4% annually.
The main takeaway of the next session, the 'IATA FIATA Air Cargo Programme (IFACP) Update' was to reinforce that Issuers of Airway Bills they are liable. A brief presentation perhaps because the AFIA Conference 2019 is actually next week?

Paul Smith from EY took the post-afternoon tea session. Titled 'How Low Value Goods (LVG) will affect your business', his presentation retouched on the 'Amazon effect' mentioned early in the day in as much as to say the IRD are still analysing the situation. The $1000 NZD tariff starting point was higher than expected (especially as it is $400 currently). The $60k threshold for GST registration for offshore organisations will still exist. He went over the relationship between IRD and Customs and why some goods will become cheaper to import.
Graeme Marshall showed a compelling clip during the last session of the day, ' Biosecurity 2025 Update'. They created the clip which was shown as an advert on television to help change individual opinion of who is impacted by New Zealand's biosecurity. The emotional appeal was created because research showed that 2% of New Zealanders felt biosecurity had a personal impact on their lives.
For organisations, Marshall said, compliance currently was the motivator, but that it should justify being discussed as a genuine business risk! It could be extremely disruptive (in a negative way). Results could include things like market access changes or supply chain issues. It's a good idea for these risks to be analysed and possible disruption levels acknowledged so plans can be put in place to enable quicker recovery (worst-case scenario) and better processes to avoid issues occurring at all. KVH (Kiwifruit Vine Health) was highlighted as an example of future proofing biosecurity risks that could be applicable in other industries. For example:
Only using suppliers who demonstrate proactive biosecurity behaviours
Actively seeking reassurances of proactive suppliers
Having biosecurity considered as a business risk could end up being where competitive advantages may come from in the future.
The day finished off with a Conference Dinner at Moonlight Country Estate. The warmly heated barn was a welcoming place to enter from the cold Queenstown evening!  Buses brought guests (although we drove) and everyone was greeted by standing waiters with trays of drinks as well as a well-stocked bar.  The live music, checkered tablecloths lit by candlelight, and wood with real antlers as centrepieces, contributed to setting a lighthearted mood. The platters of food included beef, fish, pork, and several hot and cold sides.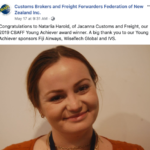 Before desert (choice of Cream Brulee or Sticky Pudding) the Young Freight Forwarder of the Year was announced. Congratulations to Natarlia Harold, of Jacanna Customs and Freight! Before the night ended many learnt to use a sheep whistle and a competitive competition was held to see who was in fact the best. That concluded the more structured part of the evening and attendees could choose to stay on and enjoy the live music, chat to new and old friends, and head back into town when they were ready.